Blood and Soil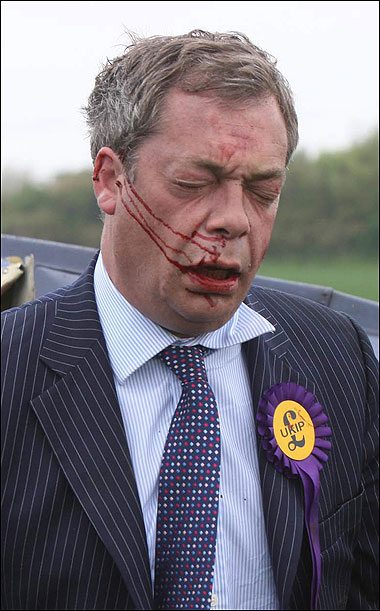 Hello to those that are left of my readers.
I'm sorry I haven't posted for a long time, but I've been in the midst of some important events in my life; events about which it seemed inappropriate to blog, but which have so filled my consciousness that I simply didn't feel I had anything else to usefully write.
So, I guess I owe a big thanks to Nick Griffin and the BNP, who have got me back at my desk and writing again. I know hundreds, if not thousands of bloggers have had their say about the nazi scumbags, but it is such a big issue that I felt it appropriate to add my voice to the chorus of disgust.
I've followed their doings for the longest time; in fact, on my first ever go on the interweb, I spent the evening looking at far-right websites, somewhat to the surprise of the bloke who owned the computer I had borrowed for the night.  During the European Election, I took great pleasure in making crank calls to the BNP hotline; my favourite being the one where I asked if they could provide me with a Welsh translation of their material; they couldn't, oddly, which is a little rich when you consider that Welsh is an 'indigenous' British language. And in case you haven't yet got your Hope Not Hate T-shirt, then why not?
But just in case you don't spend hours following their website, YouTube postings, and blogs, then have a look at this clip.  (see authors note 2019 below) The BNP clearly like this one, as one of their supporters has posted this, and the comments which accompany it are clearly by BNP supporters. Just in case you think that this a lady who just speaks off the cuff, you should know that she has stood as a BNP candidate in Birmingham, and that this is a prepared speech that she is making. A prepared speech in which she goes out of her way to point out that the BNP are Nationalists; er, and Socialist.  Which is to say, they are National Socialists. This, remember, is the modern, officially approved face of the BNP. She concludes her rant by saying that she has 'Blood and history on this soil'.  So, this evil, sick, hate-filled woman, who says 'we're not interested in bloody Nazi Germany' is, by anybody's standards, a nazi, by her own admission. In case you were wondering, the MOBO awards, the Black Police Association etc. are open to 'ethnic whites'. In 2008, I was part of a writing team which was nominated for a South Bank  Show Decibel award (which is for work by Black and Asian artists) for the play 'White Open Spaces', and I'm not exactly black, by anybody's standards.
And just in case you don't regularly visit the BNP website, here's a charming link to their online shop. Racist? The BNP? Surely not…
One of the things that people say to me about living in Presteigne is that it's 'not the real world'; and sometimes they have a point. One of the most horrible things I've read about Nick Griffin is that he chooses to live in Powys because his kids are brought up amongst a largely white populatiion. Griffin lives in Llanerfyl, not far from Welshpool.  The BNP are here in Mid Wales, which is as real as it can get.
(Author's note, 2019: the clip has disapeared. I try not to go back and cheat and rewrite entries that people have commented on, so I'm leaving my commentary up. Things are much worse than this now, of course!)