My courageous, yet futile, battle against prostate cancer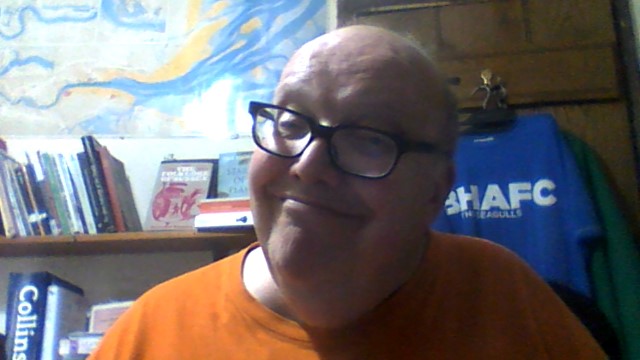 It is traditional, for writers of blogs which have lain dormant for a while and who have decided to start posting again, to apologise for their slackness when they finally get around to putting something up. I need make no such apology. I have not been slack. I have been courageously battling cancer.
Well, not so much battling, as trying to do what the wonderful nurses at Presteigne Health Centre and the MacMillan Renton Unit at Hereford County tell me to do. They are the battlers. I am merely the battlefield. If I'm frank, courage doesn't really come into it, either. Resignation is more like it.
In November 02019, I faced up the fact that I was finding it increasingly hard to piss. I went to the doctors, and they took blood, and forced their gloved fingers into my anus. They didn't like what they felt, and I didn't like them feeling it. The bloods came back, and my PSA was off the scale. So they sent me to the urology dept in Hereford, in January 02020. Here, a consultant repeated the fingers up your arse thing. Fancy getting all those A levels and spending years at medical school, and at the end of all that, you spend your day feeling about in old geezers arses.
'Goodness,' he said, aloud, not meaning to.
As he pulled off his glove, and was washing his hands, he said,
'I've felt a lot of diseased prostates, Mr Marchant, and I can tell you that you've got cancer. We need to do scans to see if it's become involved with your bones.'
Reader, it has. I had a biopsy on my prostate, (which is much worse than it sounds), and a variety of scans (CT, MRI, the weird bone one). Then, in late January, I had an appointment with the Macmillan nurse, who told me the news. She gave me a booklet, called something along the lines of 'So You've Got Prostate Cancer'. She had dog-eared the last chapter, Chapter Five, called, if memory serves, 'Basically, You're Fucked, Mate', so that I didn't have to bother myself with reading the earlier, less Gothic chapters.
The treatment began at once. The nurse said, 'It's incurable – but it's manageable.' She gave me a pill to take – a testosterone blocker. Chapter Five assured me that this was as effective as a castration, and so it has proved. (see below)
Then, three months of chemo and steroids etc in the autumn, and, in the winter, another three months of blood thinning injections to get rid of the pulmonary embolism caused by chemo etc etc. Then a short course of radio-therapy, etc etc etc. I'm off to the podiatrist next week, because my toenails have died and are dropping off. I can't recommend any of it.
It hurt to think. Brain fog and fatigue took me down from October till March. My fingers didn't work. I couldn't grip, certainly couldn't type. I am naturally unfit, and none of this has helped. I have lost muscle mass due to the testosterone blocker, and put on lots of weight due to the steroids. I am a really weedy skinny guy trapped inside a fat suit whose zip has become stuck. Resignation, not courage, is what gets you through. Cancer is the case, but life goes on.
But, blow me, here I am, coming out of the fog, back in the chair, new book growing by the day. I'm resigned, but smiling. My PSA is low. My cancer is stable. I'm writing a rather wonderful book, and my mojo is working.
And, the silly thing is, there's been stuff to post. I'm a contributor to the Diary column in the Church Times, and I've kept writing throughout. Have I shared them? No. I uploaded the Mood Index album 'Lino Women and Song' to YouTube. Did I share it here? No ma'am, I did not. I found a DVD of the TV series I presented, called 'Fun For Some.' And yet, visitors to my website find it not. Why haven't I been posting this content? Why?
The only explanation is that I've been slack, and for that, I'd like to apologise.